Autobiography
My introduction to the exciting world of music performance began in 1963, at the age of seven. If I remember correctly, I was reading at the desk in my bedroom when a sudden loud knocking on the front door interrupted my concentration: a traveling salesman. My mother stopped working in the kitchen and greeted the caller, who spoke briefly to her. I overheard my mother's reply, "Yes, perhaps my eldest son." She called for my father and then for me, but I hesitated, being extremely shy of strangers. After a few moments, my father—in a very loud voice—called out my name and I quickly ran into the den, where the three adults were sitting on the couch.
My mother explained, "This man is giving free musical aptitude tests for children and I want you to try it." The man played a simple scale passage on a small set of orchestra bells, handed me the mallets and asked me to repeat it. After my attempt, the man enthusiastically exclaimed, "Your son has definite talent! You should enroll him in our music school; and if you sign up today, the first lesson is free!"
My parents both enjoyed music. My mother played violin as a child, and she and my father enjoyed listening to 33 rpm records of Polish kolędy (traditional carols) during the Christmas season. The man asked what instrument they wanted me to play. My parents asked him, "What instruments do you teach?"
"Piano," he said, and my parents shook their heads, "No."
"Guitar," he continued, and they replied, "No."
"Trumpet,"—"No."
"Saxophone,"—"No."
"Drums,"—"Definitely NO!"
But when he said, "Accordion," my parents looked at each other for a moment, smiled and nodded, "Yes!"
Then they looked at me; would I like to learn to play the accordion? I also smiled, "Yes!" Our family enjoyed watching the weekly Lawrence Welk television show and we especially enjoyed it when Welk's assistant, accordionist Myron Floren, played a solo. Yes, I would like to learn how to play this instrument!
I began taking accordion lessons from Mr. Tony Maiorana at the East Brunswick Hi-Way Music Studio on Route 18. Mr. Maiorana was a professional accordionist and he performed regularly at various lounges and hotels in New Jersey and New York. He taught me how to play ethnic music and jazz standards, and he also encouraged me to improvise. Once my mother, who had played violin in High School and could read music, complained to him: "My son is not playing exactly what is written on the pages. He is more often than not dreaming up fantastic variations on the melodies." Mr. Maiorana simply replied: "That's okay. It's important for a musician to know how to improvise."
I enjoyed performing at school functions at Our Lady of Lourdes School in Milltown. I started a combo with my 8th-grade buddies in which I played accordion, piano, and a Farfisa electric organ. Although we sometimes played tunes from the 1920s like Five Foot Two, Eyes of Blue and Baby Face (for members of my grandfather's generation), we specialized in the hit songs of the day like Get Back (Beatles), Evil Ways (Santana) and Iron Man (Black Sabbath). I also composed some original music and songs which our band performed.
During high school I also played the Cordovox (an electronic accordion which sounded like a Farfisa organ) in the Ernie Kuhn Orchestra: a septet consisting of a vocalist, electric guitarist, electric bassist, two saxophonists, Cordovox player, and drummer. We performed regularly for wedding receptions at Central New Jersey Country Clubs and Resorts. I used to make $33.00 for a three-hour gig, at a time when my other high school buddies used to make $1.75 per hour working for minimum wage at McDonald's. (Soon after completing my freshman year at Saint Peters—on June 7, 1971—I achieved the rank of Eagle Scout at Troop 28, East Brunswick.)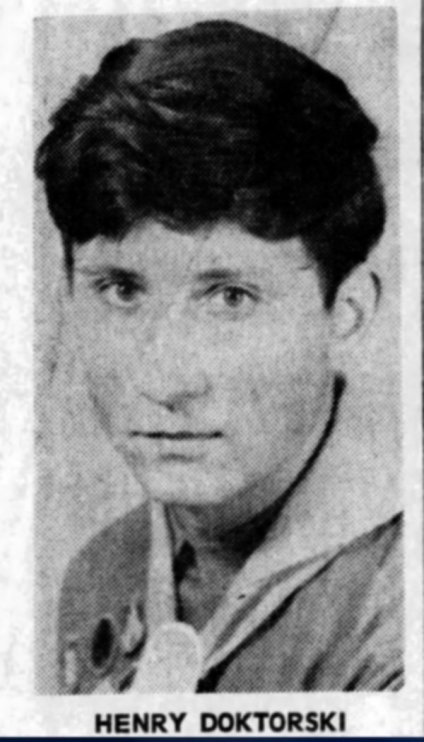 However, when I discovered classical music at Saint Peters High School in New Brunswick (thanks to SPHS Music Director Edward Krogstad and fellow student Andy Farkus, who convinced me to join the school choir), I abandoned the accordion for serious piano studies. How could I continue to play polkas and waltzes (and even rock music) after having developed a taste for Bach, Beethoven, Brahms and Bartok? In a few years, I was good enough to get a scholarship as a piano major in a small mid-western private college (Park College, now Park University).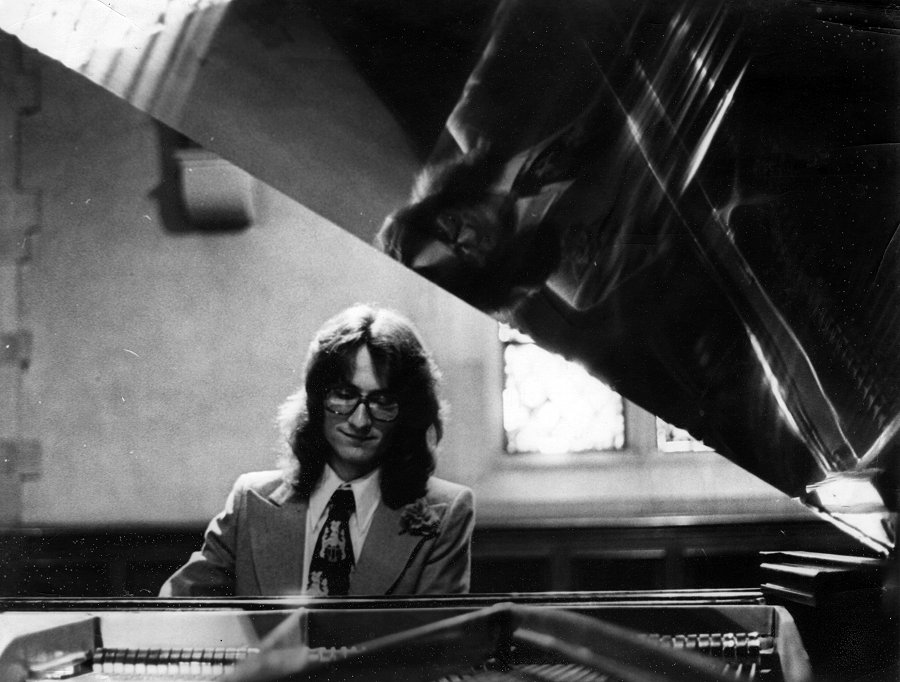 Unexpectedly, in 1989 (more than fifteen years after I had put my accordion in the closet)—while serving as organist and choir director for the "City of God" (New Vrindaban, Hare Krishna) religious community in West Virginia—I was forced to pick up the instrument again, against my will! The abbot (Swami Bhaktipada) had heard from one of the monks that I played the instrument and he requested that I bring it during the daily evening services, "just to liven things up a bit." At first I resisted, but then, after some persuasion, I agreed to try it, "just once." The accordion was a big hit and several of the monks asked me to teach them how to play.
A week or two later, I traveled to New York City to purchase instruments for our new accordion ensemble, and it was there that I discovered the classical accordion sub-culture. At one of the largest dealer's showrooms, I noticed a photocopied newspaper article tacked up on a bulletin board which included a picture of a dozen or so accordionists dressed in tuxedoes. The caption read, "The Westmont Philharmonia Accordion Orchestra, from Haddon Township New Jersey," and the article mentioned that the group performed pieces by Bach, Vivaldi, Rossini, Dvorak, and several Russian composers whose names I did not recognize.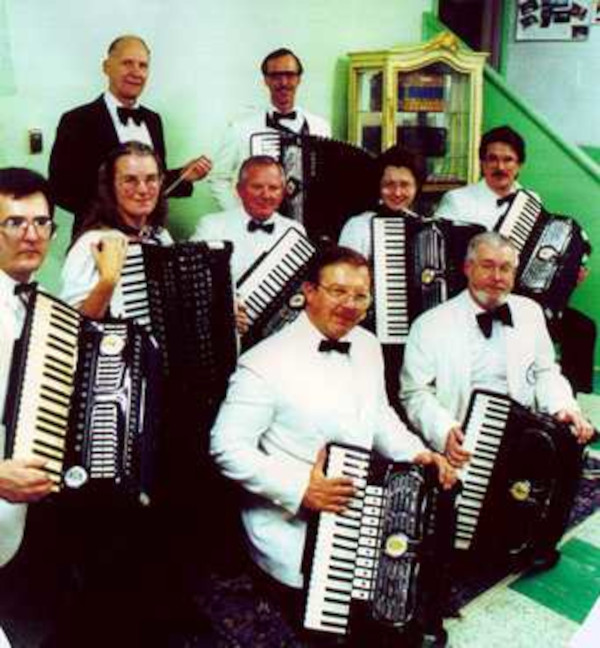 I was fascinated, for never before had I heard of an accordion orchestra, much less one that specialized in classical music! However, when I asked the proprietor about the classical accordion group, he refused to tell me anything about them, because, I believe, he was afraid that I might purchase my accordions from them instead of from him. Undaunted, I mentally made a note of the name of the orchestra and returned to West Virginia.
After arriving home, I tried to find their phone number, but the directory assistance operator could not find a listing for the Westmont Philharmonia Accordion Orchestra, nor could she find anything under the word "accordion" in Haddon Township, New Jersey. I became discouraged. Finally, after a long pause, she exclaimed, "Wait a minute! Try this number for the Acme Accordion School." After dialing long-distance, I was introduced to Stanley Darrow, the director of the music school and the conductor of the orchestra. This was the roundabout way that I discovered the fascinating world of the classical accordion. The adventure has been a great revelation for me.
I also began studies in pipe organ in 1988 at the New Vrindaban "City of God" community, as Swami Bhaktipada had instituted some liturgical reforms in an attempt to attract more Westerners: he ordered the establishment of a music program for the temple which included a pipe organ, a choir, an orchestra, and liturgies sung in English and accompanied by music in the Western classical style. I was the community's first (and last) Minister of Music, and I served as organist, choir director, orchestra director, and composer-in-residence for seven years (1986-1993). More recently, I have been working on two non-fiction books about my time with the Hare Krishnas.
I left the community for good in 1993/1994 and relocated to Pittsburgh, Pennsylvania, where I received a Graduate Assistantship at Duquesne Univerity and did research for the Director of Graduate Studies. I also taught ear-training classes in return for free tuition, and I got my Masters Degree in Music Composition in 1997. I embarked on a career as church organist, choir director and classical accordionist. I played with dozens of symphony orchestras (47 concerts with the Pittsburgh Symphony Orchestra—on accordion, piano, celesta, organ and harpsichord), and performed solo accordion recitals from New York City to San Francisco, and from Fairbanks, Alaska to Orlando, Florida. I served on the faculty of the City Music Center at Duquesne University as Instructor of Accordion beginning in 1997, and taught accordion for two summers (2005-2006) at the Fairbanks Summer Arts Festival in Alaska.
I wrote articles for scholarly and popular journals and my three-volume book/CD series on "How to Play Diatonic Button Accordion" was published by Santorella Publications. I recorded compact discs with the Pittsburgh Symphony Orchestra and the Cleveland Chamber Symphony, in addition to six solo accordion CDs, one released by Bridge Records. I worked for several churches in Pennsylvania as organist/choirmaster/music director. I taught Chess4Kidz classes for nearly ten years at schools and community centers. In 2016 I moved to California and am continuing my musical adventure.
In 2018, I completed my first non-fiction book- about Hare Krishna history, Killing for Krishna: The Danger of Deranged Devotion. Since then, ten more books have been published. My books have received praise from scholars and devotees, and have been the subject of a seven-part podcast series. I have appeared as a guest on several talk radio shows and video shows, and on July 7, 2020, I signed a contract with OSO Studios of Nashville, Tennessee, in which the company options the rights to my books for a proposed documentary movie production to be titled "Mountain of Gold" and directed by Ondi Doane Timoner, a two-time recipient of the Sundance Film Festival's Grand Jury Prize. I cannot complain. Life has been great.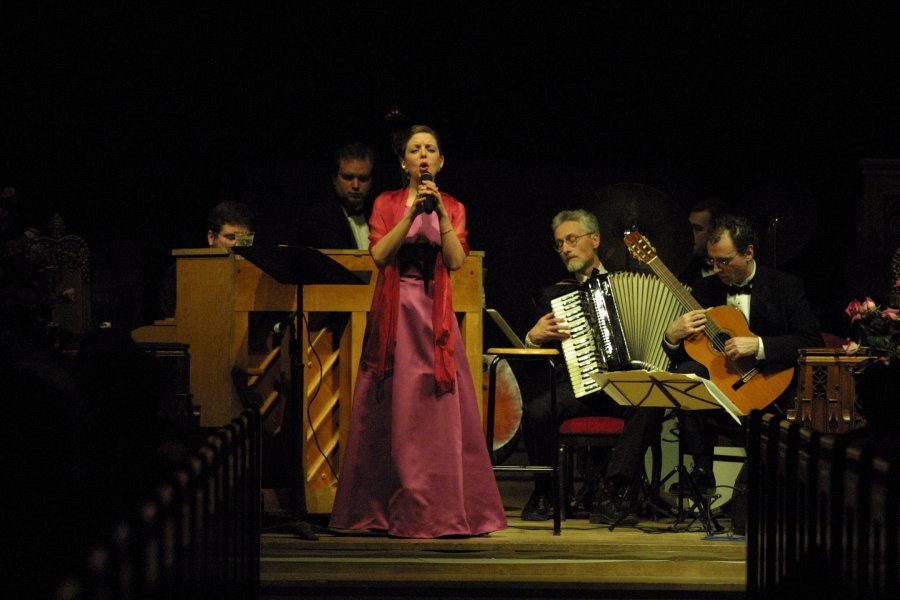 To learn more about Henry's 47 concerts with the Pittsburgh Symphony Orchestra, go to: Henry's performances with the PSO.
To learn more about taking accordion lessons from Henry, go to: Study accordion with Henry.